At the age of 64, veteran
Hong Kong
actress Deanie Ip is on a winning streak, swooping up best actress awards at the 68th Venice Film Festival, the 48th Golden Horse Awards and most recently, the 6th Asian Film Awards.
Her convincing and emotional portrayal of a local servant, or amah, opposite Andy Lau in Ann Hui's award-winning film "A Simple Life" has put not only Ip but Hong Kong cinema in the international spotlight.
We caught up with Ip after the Asian Film Awards to find out how she prepared for the role, her unique chemistry with Lau and her future plans for acting.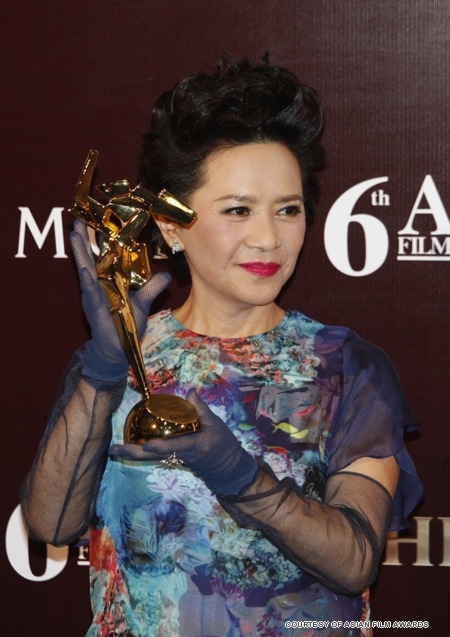 Ip took home an Asian Film Award for best actress.

LifestyleAsia (LSA): You play an old lady whose condition deteriorates as she ages in A Simple Life. Are you afraid of old age and how did you prepare for the role?
Deanie Ip (DI): Well, I'm already old, so I didn't have to do any research. Personally I'm not afraid of old age, but I am afraid of illness. If there's a day that I'm so ill I can't take care of my own hygiene, I would only wish for a peaceful passing.
LSA: Is it difficult being one of the older actresses in the movie industry?
DI: The local movie industry is still very dominated by younger faces. It's definitely not easy at my age to get roles. Someone I look up to a lot is Meryl Streep, who, despite being older, just keeps getting better. In Hong Kong, you could say I'm the lucky one.
LSA: You and Andy Lau have this unique chemistry together. Do you think that's the reason why you were able to portray your role so well in "A Simple Life"?
DI: My chemistry with Andy only happens on-screen, in front of the cameras. But it's not a must to have a relationship with someone in order to act well together.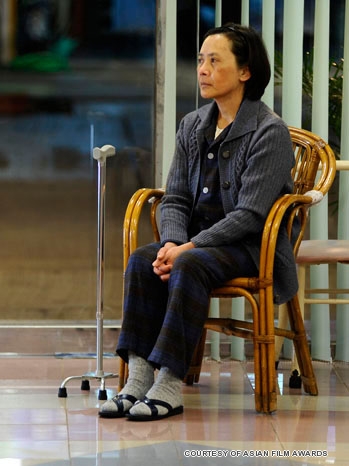 Ip plays an aging servant in an elderly home in "A Simple Life".

LSA: Many people have been saying that Andy Lau's more of a supporting actor in "A Simple Life". What are your thoughts on this?
DI: That's absolutely not true. Andy's character, Roger, is the main character in the film. In my opinion, he still wasn't good enough to Tao Jie [Ip's character]. He should have spent more time with her, treated her better, and showed her more respect.
LSA: Now that you've won so many awards for best actress, does it get less exciting each time? Also, where do you put them?
DI: I don't take the awards too seriously but it's always a blessing. As for the Asian Film Award, I've given it to Andy.
LSA: What were you doing before "A Simple Life" and what are your plans for after?
DI: I wasn't doing anything before, and I don't have anything planned after. Although I've been approached by a few people, it all depends on the script and the director.
See all the glamourous
red carpet pictures
from the 6th Asian Film Awards!